Mini Humidifier Quiet Small Dehumidifier
Ultra-quiet and high-efficiency powerful dehumidifier
MINI SIZE WITH STRONG DEHUMIDIFICATION, strong dehumidifier ever. Small and compact dehumidifier with 20 ounce / 600 ml capacity tank extracts up to 10 ounces / 300 ml (86℉,80%RH) of moisture daily in enclosed and small rooms and spaces
AUTO SHUT OFF: When full the dehumidifier will automatically shut off and the LED light will flash Orange light indicating the water tank needs draining. Simply empty the water tank and place it back into the dehumidifier
ULTRA-QUIET & EFFICIENT: Built-in Thermo-Electric Cooling Technology (Peltier) operates without a compressor meaning whisper quiet operation in bedrooms, bathrooms and offices. Noise below 33dB with no annoying sound, offer quiet and sound sleeping
UPGRADE DEFROSTING FUNCTION: This dehumidifier has defrosting function, which can make sure it can work constantly even in low temperature 5℃. Other brand dehumidifier will stop working if temperature lower than 15℃
PERFECT AFTER-SALES SERVICE: 30 days money back or exchange , 24 months with professional customer service team to provide friendly and fast support
Families with babies should buy a household dehumidifier
Summer is rainy, and the house is inevitably hot and humid. If there is a baby at home, dampness may cause skin diseases such as rashes and cause milk powder to agglomerate, which is very detrimental to the baby's growth and threatens their health. Therefore, buying a household dehumidifier can solve the distress of dampness and heat.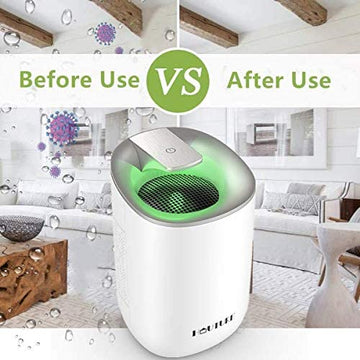 Household dehumidifiers are generally used as durable consumer goods. Consumers need to provide after-sales service from the manufacturer to inspect, repair or replace parts when failures occur during use. Manufacturers of well-known brand dehumidifiers have a complete set of quality management systems and good product quality assurance capabilities. The products they produce have certain guarantees in terms of performance and safety.
When the user adjusts the set humidity of the dehumidifier, he should set the humidity according to his own feeling of humidity, the number of people in the space, and the size of the space. Normally, when the relative humidity of the room is around 60%RH, the human body will feel more comfortable under the state of less activity such as resting and sleeping. The humidity setting is too low, in addition to making people feel dry, due to the large difference between indoor and outdoor humidity, the humidity expands faster, resulting in frequent startup and shutdown of the compressor, shortening the service life of the dehumidifier, and also consumes more More energy.
---
We Also Recommend
---